Accessing Worship Streaming on Comcast X1
You can also view the YouTube Live Stream via your Xfinity X1 box.  Once setup, you can view worship without a computer.  Here's how:
You must start by using your computer to go to the Google website https://www.google.com/.
If you don't already have a Google account, create one now. It's easy and it's free.  Click here to learn more about that.  (You already have a Google account if your email ends in gmail.com but you can use non-Google email addresses to setup your Google account too.)
You should also subscribe to the Good Shepherd Presbyterian Church channel on YouTube. Go to https://www.youtube.com/channel/UC9y0ueIkwtV1MgQJykkQV-A and click on the button labeled 'Subscribe'.  The button text will change to 'Subscribed'.
On your Xfinity remote:
Press the Xfinity button and then select 'Apps'.
Find the YouTube icon and select it. (You can also just say "YouTube" into your voice remote)
On the screen, you'll see a button that says, "Sign in with a web browser". Click OK on your remote to select it.

The instructions for connecting will appear on your TV screen:
You'll have to return to your computer to follow these simple steps:

Go to YouTube.com/activate
Enter the CODE that is displayed on your TV
Click the Next button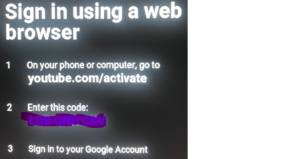 That's it! You're connected.
To view the Good Shepherd channel on the App, you the arrow buttons on your Xfinity remote to access 'Subscriptions'.